The Pertussis resurgence: putting together the pieces of the puzzle
Tropical Diseases, Travel Medicine and Vaccines
2016
2:26
Received: 30 June 2016
Accepted: 23 November 2016
Published: 12 December 2016
Abstract
Pertussis incidence is rising in almost every country where acellular pertussis (aP) vaccines have been introduced, and is occurring across all age groups from infancy to adulthood. The key question is why? While several known factors such as waning of immunity, detection bias due to more sensitive tests and higher awareness of the disease among practitioners, and evolutionary shifts among B. pertussis all likely contribute, collectively, these do not adequately explain the existing epidemiologic data, suggesting that additional factors also contribute. Key amongst these is recent data indicating that the immune responses induced by aP vaccines differ fundamentally from those induced by the whole cell pertussis (wP) vaccines, and do not lead to mucosal immunity. If so, it appears likely that differences in how the two categories of vaccines work, may be pivotal to our overall understanding of the pertussis resurgence.
Keywords
Pertussis
Acellular pertussis vaccine
Resurgence
Epidemiologic modeling
Asymptomatic transmission
Pertussis vaccines
Review
Background
Ideally, vaccines should possess two key attributes: 1) Direct protection of the vaccinee by creating endogenous immunity rendering him/her resistant to the disease in question; and 2) Indirect protection of individuals that were not vaccinated, by preventing circulation of the pathogen. This is achieved by immune responses that also block acquisition, replication and transmission of the pathogen in or from the host, regardless of whether that infection actually led to clinical illness. The former protects individuals in a population from developing symptomatic disease, but that is distinct from whether infections per se are blocked. The latter hinders the pathogen's movement through a population, and is the mechanism that leads to herd effect [1].
Perhaps the best example of this latter feature were the conjugated protein-polysaccharide vaccines targeting Streptococcus pneumoniae, Haemophilus influenzae type B, and Neisseria meningitidis. In each case, introduction of the vaccine led to a steep decline in clinical disease by vaccine serotypes/groups among those vaccinated, but also a significant decline among the non-vaccinated population, indicating herd effects. In each case, the critical mechanism underlying this herd effect was a reduction in nasopharyngeal carriage, which is itself mediated by mucosal immunity [2–7].
The resurgence of Whooping cough, caused by Bordetella pertussis, to many parts of the world, is a subject of great concern and debate. Part of this uncertainty rests in the limitations of our knowledge of pertussis disease pathogenesis and how natural or vaccine induced immunity impedes pathogen acquisition, replication, and movement through populations. Pertussis is classically described as a prolonged illness of paroxysmal coughs ending with an inspiratory whooping sound and post-tussive emesis. In the pre vaccine era the disease was responsible for hundreds of thousands of pertussis cases a year with severe or fatal cases concentrated among very young infants. From the 1950's widespread immunization of children in the US with the whole cell (wP) pertussis vaccine led to a 99% reduction in pertussis cases, but not in complete elimination of the disease [8].
But while effective, the modest reactogenicity of wP vaccines and concerns about possible rare neurologic adverse events that might have been linked to wP vaccines prompted a need for a new, safer vaccine to replace it [
9
]. Following a lengthy development process, in 1997 the US switched to acellular vaccines (aP), which are far less reactogenic, and, based on early head to head clinical trials comparing the aP with the wP vaccines, appeared to be as protective as the wP. However, the wP vaccine chosen by the CDC to be used in those trials, manufactured by Connaught, was later found to be one of the most poorly immunogenic of available wP vaccines [
10
]. Several years later an increase in incidence of pertussis in children aged 7–10 years was seen, the first birth cohort to receive the aP vaccines [
11
]. By 2014 there were more than 32,000 cases reported in the US, the highest incidence since the 1950s (Fig.
1
) [
8
,
12
]. Other countries who also switched from wP to aP vaccines, including the UK, Australia, Canada, Spain, Belgium, and the Czech Republic had the same experience, with a rise in pertussis incidence after a 5–10 year lag from the wP to aP vaccine switch.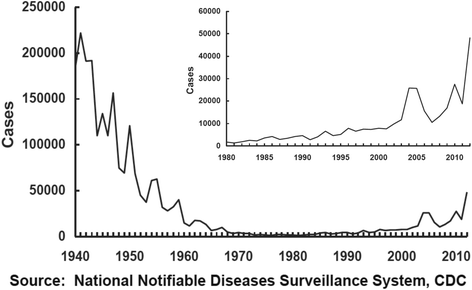 The key question, and the focus of this paper, is why? Since the resurgence of pertussis has occurred in almost every country where aP vaccines replaced wP vaccines, it cannot be assumed to be coincidence. Several explanations have been suggested including: waning of immunological response to the aP vaccine, detection bias, emergence of mutated B. pertussis strains not covered by the vaccine, and more. All are relevant theories, and each of them probably contributes to the reemergence of pertussis. However, none of these seem to adequately explain the pattern of rise of pertussis disease [12, 13], suggesting that a key piece of the puzzle is still missing.
As will be shown, the answer to this question likely rests on a multiplicity of sources of evidence, including epidemiologic studies, modeling exercises, experimentally derived data using animal models of pertussis exposure and vaccine responses, and recent insights into the immunology of pertussis and pertussis vaccines. A key theme that emerges is whether and to what degree aP vs. wP vaccines induce mucosal immunity, what the specific immunological mechanisms are that allow for that response, and how these differ between the two vaccine types.
Conclusions
Table
2
summarizes the major differences between wP vaccine and aP vaccine as the evidence of the last 75 years suggest.
Table 2
Summarization of the major differences between wP vaccine and aP vaccine
Whole cell pertussis vaccine (wP)

Acellular pertussis vaccine (aP)

-Blocked disease and infection to a much higher extent than aP

-Probably did this by blocking carriage (though studies were never done to prove that hypothesis).

-Blocked disease but did not block infection.

-Experimentally do not block carriage and permit transmission from asymptomatic to vaccine naïve animals. This observation closely mimics the cocooning strategy, and suggests a reason why it had failed to perform as anticipated.

-Epidemiologically appears to offer herd effect (though not to a level sufficient to halt transmission entirely).

-Epidemiologically offers minimal or no herd effect.

-Induces robust mucosal immunity.

-Seemingly absent of mucosal immunity induction.

-Induces robust Th17 responses.

-Induces Th2 response.
The resurgence of pertussis likely has many contributing factors. And while detection bias, poor persistence, and leaky vaccine efficacy due to evolutionary shifts likely contribute to varying degrees in the pertussis resurgence, it seems far more likely that the key factor is instead immunologic. As with the conjugated protein-polysaccharide vaccines, the overall effectiveness of a pertussis vaccine when used at scale in a population is a function of direct and indirect effects. The lack of sterilizing mucosal immunity following aP vaccinations appears to be a critical limitation to these vaccine's overall effectiveness, and in our view may be the most important factor of all in accounting for the resurgence.
If so, the implications of this inference are quite profound. The resurgence of pertussis in the past 2 decades is at once a public health and a public relations crisis. Vaccine hesitancy rates are rising, and the population is increasingly skeptical about professional pronouncements regarding vaccine policy. With the introduction and expanded use of aP vaccines into the population failing to control the rise in pertussis incidence, it seems increasingly likely that radical solutions will be required. This may include the resumption of wP vaccinations in some part of the infant schedule, or even the development of an entirely new pertussis vaccine. While it is too soon to know how this will play out, understanding how any new or improved pertussis vaccine affects mucosal immunity will be essential.
Declarations
Acknowledgments
None.
Funding
This work had no external funding support.
Availability of data and materials
All data referenced are in the published literature and are already available.
Authors' contributions
LR researched the topic and wrote the first draft of the manuscript, and collaborated on revisions. CJG worked closely with LR to develop the paper's structure, contributed to its development, designed several of the figures, and contributed to the final version. All authors read and approved the final manuscript.
Competing interests
Both authors declare that they have no competing interests.
Ethics approval and consent to participate
Not applicable for a review article.
Open AccessThis article is distributed under the terms of the Creative Commons Attribution 4.0 International License (http://creativecommons.org/licenses/by/4.0/), which permits unrestricted use, distribution, and reproduction in any medium, provided you give appropriate credit to the original author(s) and the source, provide a link to the Creative Commons license, and indicate if changes were made. The Creative Commons Public Domain Dedication waiver (http://creativecommons.org/publicdomain/zero/1.0/) applies to the data made available in this article, unless otherwise stated.
Authors' Affiliations
(1)
Department of Pediatric Infectious Diseases, Boston Medical Center, Boston, USA
(2)
Department of Global Health, Boston University School of Public Health, Boston, USA
(3)
Center for Global Health and Development, Boston University School of Public Health, Boston, USA