Diarrheal disease and enteric infections in LMIC communities: how big is the problem?
Tropical Diseases, Travel Medicine and Vaccines
2016
2:11
Received: 12 May 2016
Accepted: 13 July 2016
Published: 19 July 2016
Abstract
Studies of enteric diseases have historically focused on observations of clinical diarrhea as a cause of mortality and morbidity. Emerging evidence suggests that diarrhea dramatically underestimates both exposure to enteropathogens and the long-term consequences arising from infection. High burden of pathogens in the gut, even in the absence of diarrhea, is common in infants in low and middle income countries. Continual challenge by pathogens, in conjunction with an inadequate diet stimulates an inflammatory disease that alters the structure of the gut, metabolic and immunological pathways and changes the microbiome. Both diarrhea and enteropathogen infection have been associated with reduced growth, reduced cognitive development, and reduced vaccine efficacy suggesting that the burden of diarrheal disease is dramatically underestimated.
Keywords
Enteric pathogensMalnutritionEnteropathyDiarrheaCognitive developmentGrowthVaccine responseSanitation and hygiene
Background
The importance of diarrheal disease
The importance of diarrhoeal disease to child development in low and middle income countries (LMIC) was highlighted by seminal work in the 1950s and '60s [1, 2]. Subsequent research over the next two decades focused on quantifying health outcomes by the frequency and severity of symptoms [3]. Interventions to interrupt transmission routes [4–6] have simultaneously greatly reduced mortality [7] and rates of diarrheal incidence [8]. Nevertheless, continuing interest in diarrhea reflects its role as the second most common cause of death in children under 5 years old [9].
The burden of diarrhea, however, is not solely estimated by mortality. It is a proximate driver of malnutrition [
10
], and related to many insidious morbidities [
3
,
11
]. A considerable body of evidence has rearranged the linear United Nations Children's Emergency Fund (UNICEF) framework [
10
] of malnutrition into a cyclical conceptual model that describes a 'vicious cycle of poverty' [
11
] (Fig.
1
): (a) infection with enteric pathogens is associated with b) impaired gut-function [
12
–
15
] that can (c) exacerbate effects of malnutrition [
16
], for example, restricting appropriate processing of nutrients [
17
,
18
] necessary for (d) physical [
17
–
20
] and (e) cognitive development [
21
–
23
] as well as (f) altering immune responses [
16
,
24
], thereby impairing a child's ability to resist a) recurrent infections [
17
,
25
] and illness [
26
]. Scaling to a population from an individual, malnutrition as a disease associated with poverty increases (g) behaviors and environments that propagate the syndrome. It is worth noting that the language of the vicious cycle has evolved from a focus on diarrhea [
27
] to specifically implicating enteropathogen infection absent diarrhea [
11
,
28
]. Advances in diagnostics are likely to provide further evidence for the role of cryptic infections in the absence of overt symptoms.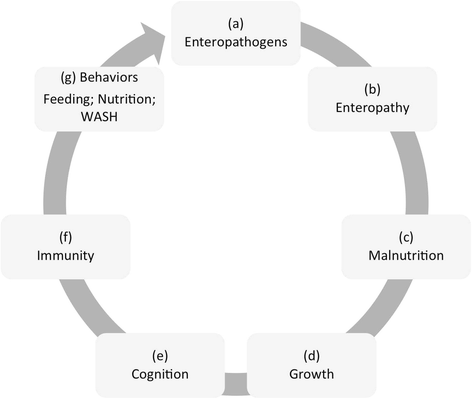 Conclusions
A mounting body of evidence suggests that the burden of diarrhea is much greater than the high reported number of childhood deaths each year. The insidious morbidity ascribed to diarrheal disease is more appropriately attributed to enteric infection.
Guerrant et al. [
94
] offered a first attempt to revise estimates of diarrheal disease Disability Adjusted Life Years (DALYs) (Fig.
2
). Rather than base 95 % of the burden on mortality, they accounted for long-term consequences and suggested a conservative doubling of the disease burden. As further data become available that can better identify and quantify long-term health effects of asymptomatic enteric infection, this estimate is likely to be refined, and will almost certainly be increased, for example, accounting for at least some of burden of stunting, which is substantially greater than reflected by current DALY estimates due to diarrhea per se (Fig.
2
).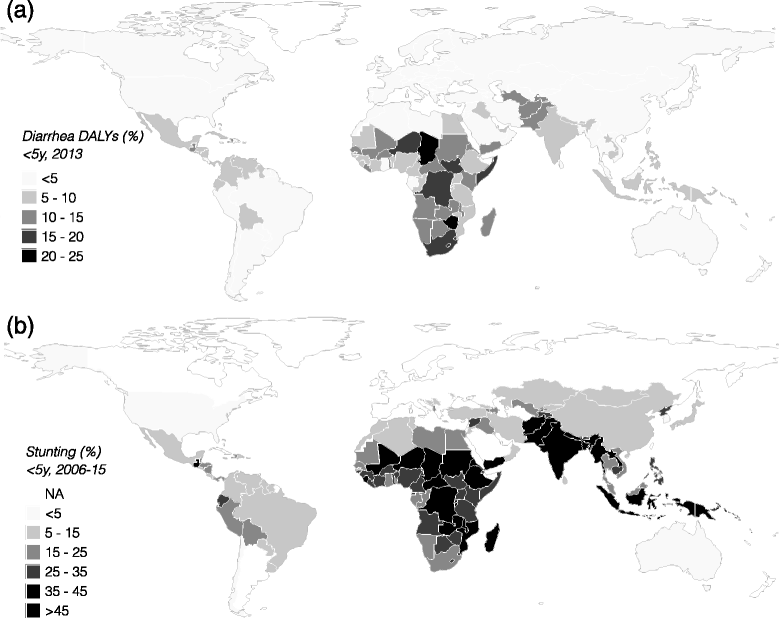 By explicitly recognising the importance of exposure to pathogens, singly or in combination, and not being guided solely by the symptom of diarrhea, targeted efforts to reduce the compounded damage due to inadequate diet and infection may yield greater success than reducing either separately. It suggests that increased emphasis should be placed on improving access to clean water, adequate sanitation and hygiene (WASH) methodologies that attempt to break transmission routes that are common to many pathogens along side targeted vaccination against high priority pathogens.
Abbreviations
DALYs:

Disability Adjusted Life Years
EE:

environmental enteropathy
GEMS:

Global Enteric Multicenter Study
LMIC:

low and middle income countries
MAL-ED:

The Etiology Risk Factors and Interactions of Enteric Infections and Malnutrition and the Consequences for Child Health and Development
SBBO:

small bowel bacterial overgrowth
UNICEF:

United Nations Children's Emergency Fund
WASH:

Water Adequate Sanitation and Hygiene
Declarations
Acknowledgments
The authors thank the staff and participants of the MAL-ED Network Project for their important contributions. The authors especially thank Michael Gottlieb, Karen Tountas, Laura Caulfield and Richard Guerrant for their insight and assistance in writing this manuscript.
Funding
The Etiology, Risk Factors and Interactions of Enteric Infections and Malnutrition and the Consequences for Child Health and Development Project (MAL-ED) is carried out as a collaborative project supported by the Bill & Melinda Gates Foundation, the Foundation for the NIH and the National Institutes of Health/Fogarty International Center. The funders had no role in the writing of the manuscript.
Availability of data and supporting materials
Not applicable.
Author's contributions
BJJM and DRL contributed equally to the writing of this manuscript. Both authors read and approved the final manuscript.
Competing interests
The authors declare that they have no competing interests.
Consent for publication
Not applicable.
Ethics approval and consent to participate
Not applicable.
Open AccessThis article is distributed under the terms of the Creative Commons Attribution 4.0 International License (http://creativecommons.org/licenses/by/4.0/), which permits unrestricted use, distribution, and reproduction in any medium, provided you give appropriate credit to the original author(s) and the source, provide a link to the Creative Commons license, and indicate if changes were made. The Creative Commons Public Domain Dedication waiver (http://creativecommons.org/publicdomain/zero/1.0/) applies to the data made available in this article, unless otherwise stated.
Authors' Affiliations
(1)
Fogarty International Center, National Institutes of Health, Bethesda, USA
(2)
Foundation for the National Institutes of Health, Bethesda, USA